Site Admin
Posts: 10000
Joined: Thu Feb 23, 2006 1:22 pm
Location: In The TARDIS Or At U.N.I.T. Headquarters
Contact:
Johnny Mathis - Winter Wonderland:



The Carpenters - Merry Christmas Darling: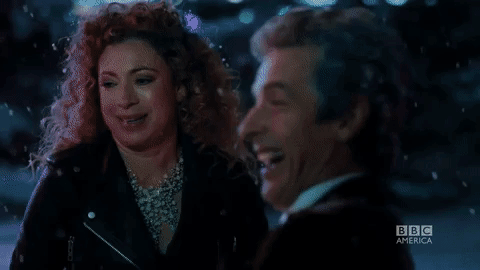 "Laugh hard, run fast, be kind." - Peter Capaldi as the Twelfth Doctor (Twice Upon A Time)
---
I'm assuming everybody else has already heard the George Strait song called "Christmas Cookies." I heard it for the first time on the radio while driving to my brother's yesterday & didn't know who was singing. Thought it was some real old song. But it turns out he recorded it in 1999. Looked it up on YouTube when I got home. It's pretty cute!



-Marie-
You find out what someone is really like in "battle," and Olbermann is who you want to be in a foxhole with, Patrick said. "On the air, we had each others' backs," said Olbermann.
-David Goetzl: "Keith Olbermann, Dan Patrick still brothers long after ESPN's 'Big Show'"; MediaPost blog,

4-6-2012
---
BrooklynBilly wrote:The Pogues:


Just as a sad aside but one that many people should be aware of: The wonderful Kirsty MacColl must certainly today be an Angel for what she did in December 2000: While vacationing in Mexico & diving/swimming in a restricted area (for boats) MacColl saw a speeding boat come towards her sons before her sons did; while 13-year old Louis was not in the boat's path Kirsty saw that her 15-year old Jamie was in its path. Kirsty's quick thinking & instincts resulted in her successfully pushing Jamie out of the way of the speeding boat -- but, Kirsty was struck and killed. She saved her son's life. It's what a mother does. I always admired Kirsty for that tragic bravery...I know I won't forget her.
---
---
This is one of my favorite scenes in "The Bishop's Wife." The hymn is truly heavenly!



PS: It is the MITCHELL Boychoir.

-Marie-
You find out what someone is really like in "battle," and Olbermann is who you want to be in a foxhole with, Patrick said. "On the air, we had each others' backs," said Olbermann.
-David Goetzl: "Keith Olbermann, Dan Patrick still brothers long after ESPN's 'Big Show'"; MediaPost blog,

4-6-2012
---
---
Who is online
Users browsing this forum: No registered users and 0 guests