So clever! I wish I liked coffee...
Be who you are & say what you feel, because those who mind don't matter & those who matter don't mind. --Dr. Seuss
Keith Olbermann rocks! --dejapig
---
So would making bad coffee be grounds for divorce?
Be who you are & say what you feel, because those who mind don't matter & those who matter don't mind. --Dr. Seuss

Keith Olbermann rocks! --dejapig
---
I have a keurig coffee maker. My husband loves it. We have the stainless cup that takes our own coffee. I have never been a real coffee drinker. I am the latte kind, lots of milk with my coffee. But since learning it is good for you, I try and have a cup a day or at least every other day.
The modern conservative is engaged in one of man's oldest exercises in moral philosophy; that is, the search for a superior moral justification for selfishness.
-John Kenneth Galbraith
A conservative is a man with two perfectly good legs, who, however, has never learned to walk forward.
-Franklin D. Roosevelt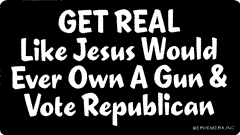 ---
Forum's Senior Troll
Posts: 5946
Joined: Thu Nov 08, 2007 12:45 pm
FYI paper filters retain some of the oils which give coffee it's flavor, gold or stainless steel is better.
Nemo surdior est quam is qui non audiet
---
Posts: 768
Joined: Tue Jul 22, 2008 11:46 am
Michael wrote:I am posting this article on re-using Keurig K-Cups for FREE here so that Google can pick it up and share it with the world.

***

I was in Germany last fall and stayed at the German equivalent of Hilton. There I saw an amazing little machine--my first Keurig coffee maker. These things blow any other method of making coffee out of the water.

A sealed K-Cup is placed in the machine and punctured top and bottom. Superheated water is forced though the cup at pressure, then hot air blows through the cup, drying it. You are left with a PERFECT (precisely measured and precisely delivered) cup of coffee with absolutely no mess.

I want the old red perk. I loves it.

Never seen anything that well done for making coffee. Made what Americans use in hotel (foil pouches with filter bags) look like 1950's percolators.

I had to get one. I love it. One at work and one at home.

But it wasn't long until the cost started to get to me. At about 50 cents a cup it adds up!

I gave some thought to re-using the cups.

They sell a reusable cup for about $20, but it is reputed to make weak coffee due to a small coffee capacity.

I decided to hack the existing cups for free.

Take a used cup:

If you just peel off the top foil...

you reveal the used coffee.

Dump it, rinse the cup and let it dry.

When you want some coffee get a scoop of Yuban...

get some Tin Foil (the good stuff)

wrap the top tightly.

Stick it in and brew!

Ready to use over and over again.

The coffee maker is going to punch a hole each time and I have cups with about 5 holes in them... I don't think its a problem, but recently realized that all I have to do is put the recycled K-cup in with the existing hole at the 12 o'clock position and it neatly its in place so as to use the same hole each time.

Drops that perfect cup of coffee from 50 cents to 10 cents.

Enjoy.
---
---
Who is online
Users browsing this forum: No registered users and 1 guest