Happy birthday, Shadow!
Have a great day!
Be who you are & say what you feel, because those who mind don't matter & those who matter don't mind. --Dr. Seuss
Keith Olbermann rocks! --dejapig
---
Hey, Shadow, Happy Birthday -- and where in the heck are you?

-Marie-
You find out what someone is really like in "battle," and Olbermann is who you want to be in a foxhole with, Patrick said. "On the air, we had each others' backs," said Olbermann.
-David Goetzl: "Keith Olbermann, Dan Patrick still brothers long after ESPN's 'Big Show'"; MediaPost blog,

4-6-2012
---
The modern conservative is engaged in one of man's oldest exercises in moral philosophy; that is, the search for a superior moral justification for selfishness.
-John Kenneth Galbraith
A conservative is a man with two perfectly good legs, who, however, has never learned to walk forward.
-Franklin D. Roosevelt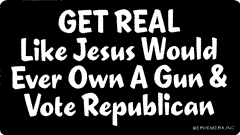 ---
Posts: 753
Joined: Tue Jul 22, 2008 11:46 am
SusieQ wrote:

Happy Birthday, Shadow!
Come out of the shadow so we can wish you a happy happy birthday.
---
Happy belated birthday Shadow! I miss you, my fellow fetus.
---
---
Who is online
Users browsing this forum: No registered users and 2 guests